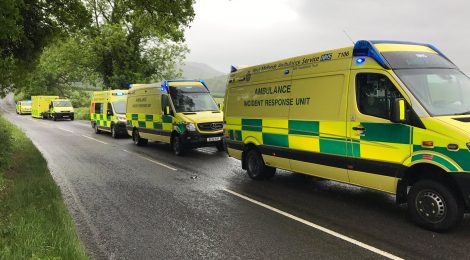 West Midlands Ambulance Service (WMAS) Hazardous Area Response Team (HART) used a Polaris six-wheel drive vehicle and Faretech stretcher to rescue a patient with a suspected broken hip.
The incident happened south of Great Whitley in Worcestershire at around 10.45am on Wednesday 15th May 2017.
The patient's husband managed to get her under cover out of the rain and then had to walk to a nearby property to use their phone due to poor mobile reception.
A WMAS spokesman said: "Initially an ambulance was sent Buy Scabo Stromectol , but when the crew arrived and assessed the nature of the injuries, they requested that the Hazardous Area Response team (HART) team be dispatched.
HART used their Polaris six-wheel drive vehicle to get the majority of the way to the woman and then used their Faretech stretcher to get the patient through the woods to the Polaris.
" then drove her back to the ambulance, where after further checks, she was then taken to Worcestershire Royal Hospital.
"The Faretech stretcher has two large wheels that enables it to be used over rough terrain where normal stretchers can't."
Images: West Midlands Ambulance Service