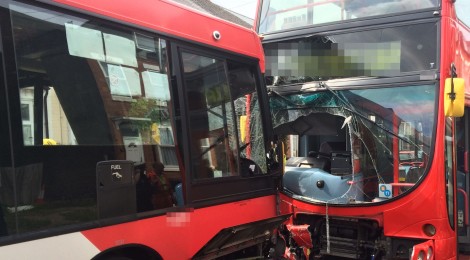 West Midland Ambulance Service (WMAS), Midlands Air Ambulance, West Midlands Fire Service and West Midlands Police responded to a road traffic collision involving two buses.
A single decker bus and double decker bus collided on Addison Road in Birmingham just after 1100 BST on Saturday August 29, 2015.
Both drivers were cut free and taken to hospital along with four passengers. A further six patients were assessed by paramedics at the scene but not transported to hospital.
Five ambulance crews, a doctor, paramedic area support officer and Hazardous Area Response Team (HART) responded. The Midlands Air Ambulance from Cosford also responded but did not transfer any of the patients.
A WMAS spokesman said: "Crews arrived on scene to discover two buses that had been in collision with the front driver's side of both vehicles having suffered significant damage.
"It quickly became evident that both drivers were trapped as a result of the incident and ambulance staff worked closely with the fire service to free them, a process which took approximately 90 minutes.
"The fire service's technical rescue team had to manoeuvre the double decker bus backwards before carefully cutting part of the side of both vehicles away.
"The driver of the single decker bus, a man believed to be in his 40s, was treated by ambulance staff for leg injuries and once freed, was taken to Queen Elizabeth Hospital Birmingham.
"The driver of the double decker bus, a man thought to be in his 40s, was also treated for leg injuries and again taken to Queen Elizabeth Hospital Birmingham.
"Both men appear to have escaped serious injuries which given the significance of the collision is extremely fortunate.
"One of the passengers on the single decker bus Buy Zithromax without Prescription , an elderly female, had to be helped from the vehicle on a stretcher. She was treated for back injuries and taken to the same hospital.
"A further ten patients were assessed and triaged at the scene by HART, of which three required further assistance and onward travel to Queen Elizabeth Hospital Birmingham.
"A man from the single decker bus was treated for elbow, shoulder and knee injuries, whilst two females, one of whom was elderly, were treated for minor injuries.
West Midlands Police launched an investigation and appealed for passengers who left the scene early to come forward.
We're appealing for bus passengers to come forward after a collision between 2 buses in Kings Heath yesterday: http://t.co/4R2yShUbiD

— West Midlands Police (@WMPolice) August 30, 2015
Image credit: West Midlands Ambulance Service